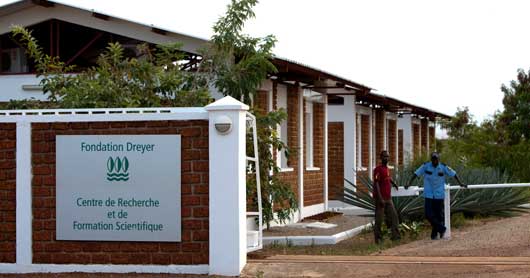 Centre
The self-owned facility in Dano is the starting point for the coordination and realisation of all Foundation activities.
In March 2005, the Centre de Recherche et de Formation Scientifique (Centre for Research and Scientific Education) in Dano went into operation. The Foundation-owned building complex, encompassing sixteen buildings for living and working, was erected on a plateau situated approximately thirty metres above the reservoir.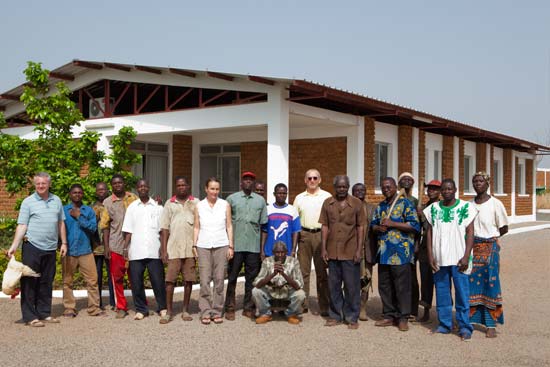 The CENTRE is a meeting place for local cooperation between people. Discussions take place there as well, such as administrative meetings, field schools and meetings of the team or agricultural technicians.
Ever since the completion of the first project, the construction of a dam and reservoir basin, the tasks of the Dreyer Foundation in Dano have been increasing constantly. In order to support the people in the region on a holistic basis, it has added new areas of activity such as education and farming. The coordination of these ever broader activities now requires a constant local presence and administration. Thus the CENTRE was born. It has since become a clearing house for cooperation with local and national partners.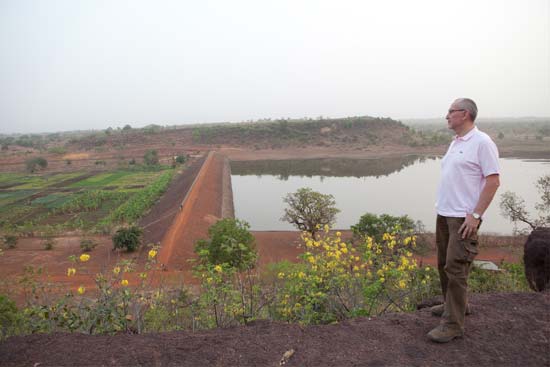 The CENTRE was constructed on a plateau and thus provides a wonderful view of the dam and its perimeter.
The one-of-a-kind CENTRE is not only a meeting place but is, above all, a place of training and learning. Here, students, doctoral candidates, scholars and researchers from the world over encounter a comprehensive infrastructure providing them with efficient working and comfortable living conditions for extended periods of time. It is equipped in accordance with European standards: the grounds include their own deep well, electricity and emergency power generators, hot and cold water, air conditioning, telephones as well as Internet via satellite. In addition, the Dreyer Foundation owns numerous technical devices that can be loaned out to interested users.

The CENTRE's building complex encompasses 16 buildings for living and working.